November 13, 2018
Though we are not in the business of predicting the future, it is sometimes very interesting to go back and see how forecasts play out after the fact. Especially when there is a lot of news happening during a short period of time. First, we had the jobs report released on November 2. The expectations were for an increase of just under 200,000 jobs after a weaker than expected 118,000 added in September (adjusted downward from 134,000 originally reported). The unemployment rate was expected to remain at 3.7%. The numbers came in at 250,000 and 3.7%, respectively. The general assessment was that the report was strong and more than offset the weak growth the previous month due to Hurricane Florence.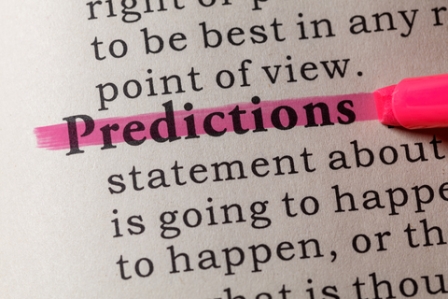 Just four days later, we had Election Day on November 6. The forecast was for a changeover in the House with status quo on the Senate side. This prediction was right on point. We also made the remark ahead of time that such a result would not change the divisions in Washington. We can't comment on this prediction because it will take some time for this to play out; however, we are still not optimistic for improvement in this regard.
Finally, the Federal Reserve Board started their meeting the day after the election. The Fed was expected to keep rates the same for this month, but to continue to raise the possibility of a fourth increase in December. Again, this forecast was right on. Actually, the Fed announcement after the meeting did not seem to lower the probability of another hike in December. So, what was the reaction to all this news? Looking at the stock market as one indicator, stocks had a very volatile and down month in October, but started to rally as the month closed. Stocks continued that rally past election day, but paused after the Fed decision.
Source: Origination Pro
Are you buying a home or business in Queens, Brooklyn or NYC NY?  Amerimutual Mortgage  is a local business that is owned and operated by two brothers who are proud to make a difference helping their community in Astoria NY.  By matching home buyers with the right mortgage products for their needs, Benny and Phil Loria provide vital loan lending services to the real estate community of New York City.   Amerimutual Mortgage provides home loans for residential properties and commercial loans for business men and women who might be buying buildings, warehouses or retail store locations.   They also provide loans for real estate investors who may be buying multi-family duplex, triplex, quad, or high-rise apartment building.  Call Benny Loria at (718) 943-9200 to discuss your options for residential or commercial real estate loans, or assessing value and returns on real estate investment property in New York City and surrounding boroughs of Queens NY, Brooklyn NY, Staten Island NY, Bronx NY.  Or, you can even apply for a mortgage online.
Benny LoriaBenny Loria, Esq.
Benny Loria, Vice President (NMLS#: 900146)
718-943-9200 Ext. 115
bloria@amerimutualmortgage.com
Amerimutual Mortgage
Local neighborhood mortgage loan experts.  We live and work in Astoria, Queens NY and are dedicated to seeing our community grow and prosper.
AMERIMUTUAL MORTGAGE (NMLS# 148447) Address: 18-33 41st Street, 2nd Floor, Astoria, NY 11105   Tel: (718) 943-9200   Fax: (718) 204 – 0657